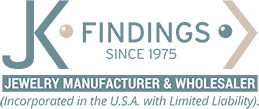 My Account

Some services are not accessible on smartphone.
Privacy Policy
Thank you for visiting JK Findings. We value your time and strive to provide you with the best web experience possible. As part of that experience we do collect information from you, our online visitor. In the section below we will describe the information we collect and what we do with that information once it has been collected.
We have created our Privacy Policy with the protection of your information as our primary focus. The information we collect may be stored and/or viewed by JK Findings in the United States or in any other country that JK Findings is active. Your information will only ever be viewed on a business need to know basis and never sold to third party institutions.
How We Collect and Use Information
Browsing
You are free to browse our site without logging in or sharing any information. However, as a means to ensure that our website is optimized for our visitor's browsing habits, we may collect your computer's IP address.
Logging In
When you log into the JK Findings website you have the ability to browse items, check inventory, and place an order for your selected items. In order to create an online account, you will have to share personal information that is then stored within our secure servers. This personal information will be used to expressly identify you and to ensure that the items you order are shipped to you in a timely manner.
Cookies
Cookies are a small piece of information stored by a user's browser on their computer. Usage of a cookie allows us to track the most popular areas of the site and the interests of our individual users. We use both session ID cookies and persistent cookies. For the session ID cookie, once users close the browser, the cookie simply terminates. A persistent/browser cookie is a small text file that remains stored on the user's hard drive. Persistent cookies can be removed by following your specific Internet browser instructions.
Site Usage Tracking
Our database allows us to track the traffic through our site. Whilst it does not provide us with any personally identifiable information it does allow us to compile statistics, analyze trends and monitor daily usage. The information collected includes IP addresses, browser type, referral pages, ISP, platform type, date and time stamp. These statistics are compiled by a third party and are subject to their privacy policy, but are solely used by us to improve and determine the products and services available on the site.
Links
This Web site contains links to other sites. We are not responsible for the privacy practices of these other sites. We encourage our users to be aware when they leave our site, to read the privacy statements of Web sites that collect personally identifiable information. This privacy statement solely applies to the information collected by this Web site.
Opt-Out Policy
We provide you the opportunity to "opt-out" of having your personally identifiable information used for certain purposes when we ask for this information. If you no longer wish to receive our email communications and promotional communications, you may opt-out of receiving them by following the instructions included in each email communication, by contacting us.
Sharing of Information
The only information we share with outside vendors will relate to the shipping information we grant access to for carriers like UPS or FedEx. They will be given only the shipping address and contact information to ensure your delivery arrives as directed.
Security Measures
With the threat of identity theft ever present we take every measure to ensure the safety of your personal information. If you have an online account with us and are set up to bill using a credit card, we store your card information using secure sockets layer (SSL) encryption technology. Our employees do not store your 3 digit CVV (Card Verification Value) and will need to ask you to verify it each time you make a purchase.
We Respect Children
JK Findings is committed to protecting the privacy of children. Our website is not directed at children, and jkfindings.com does not knowingly collect any information from children.
For Further Information
All of our policies are crafted with you, the customer, in mind. By accessing our website, you are agreeing to the terms and conditions described herein. If you have any questions pertaining to the JK Findings Privacy Policy & Terms please do not hesitate to contact us via phone at (800) 338-6157 or our Contact Us page.