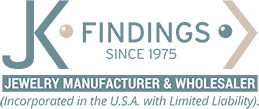 My Account

Some services are not accessible on smartphone.
Site Terms and Conditions
The following Terms and Conditions apply to the JK Findings website located at www.jkfindings.com. Please read the terms and conditions carefully. Use of the site serves as compliance to be legally bound by the Terms and Conditions.
If any changes are made to the Terms and Conditions they are effective immediately upon posting to the website; continued use implies continued compliance. The Terms and Conditions in effect will always be visible on the JK Findings website. Please check periodically to ensure you are aware of any changes or modifications.
Privacy Policy
Please refer to our Privacy Policy page for more information on the type of information recorded, stored, and used when you visit our website.
Site Content
The website and all content including, without limitation, the JK Findings logo, catalogs, designs, text, graphics, images, overall layout, information, data, software, audio files, and other files are the proprietary property of JK Findings.
Pricing and Inventory
Customers who have created online accounts through this website have the ability to view pricing in real time. If you are interested in the lead time of an item, contact us at (800) 338-6157 to find out when we expect the item(s) to be ready to ship. Many items are in stock and can ship immediately, others are made to order. For these items, our Customer Service department can be reached to provide details on the expected availability date.
Prices quoted online are subject to computer or human error and, while we make every effort to avoid these errors, they may occur. We reserve the right to correct any and all errors when they do occur, and will not honor inaccurate prices. If a product's listed price is lower than its actual price, we will, at our discretion, contact you for instructions before shipping the product. If the order has been shipped, you may return the product or pay the difference between the actual and charged prices.
Prices will fluctuate based on the change in the metal markets. The final price you pay for all items is based on the market at the time the item ships. Obtaining a quote does not "lock in" that price.
Sample Orders
We understand that there are many reasons to request samples of particular items before ordering bulk. Because our website will only accept order quantities that meet our minimum order requirements, please contact our customer service department or your sales representative with any sample order requests.
Online Images
All of our product images are optimized for electronic media. However, computer screens may skew the proportions and colors of the items and misrepresent their true appearance. For best results, adjust your screen to represent true color and set your web browser to view web pages without zooming or enlarging unless necessary for your accessibility.
Terms of Use
Users agree to indemnify, defend, and hold harmless JK Findings., its officers, shareholders, directors, employees, and agents from any liability, loss, or claim related to your violation of these Terms & Conditions or use of this website.
Disclaimer and Limits – THE INFORMATION CONTAINED IN THIS SITE is PROVIDED "AS-IS," "AS AVAILABLE," AND ALL WARRANTIES, EXPRESS OR IMPLIED, ARE DISCLAIMED. THE INFORMATION AND SERVICES MAY CONTAIN BUGS, ERRORS, PROBLEMS OR OTHER LIMITATIONS. WE AND OUR AFFILIATED PARTIES HAVE NO LIABILITY WHATSOEVER FOR YOUR USE OF ANY INFORMATION OR SERVICE. WE ARE NOT LIABLE FOR ANY INDIRECT, SPECIAL, INCIDENTAL OR CONSEQUENTIAL DAMAGES (INCLUDING DAMAGES FOR LOSS OF BUSINESS, LOSS OF PROFITS, LITIGATION OR THE LIKE, WHETHER BASED ON BREACH OF CONTRACT, BREACH OF WARRANTY, TORT (INCLUDING NEGLIGENCE), PRODUCT LIABILITY OR OTHERWISE. OUR MAXIMUM LIABILITY TO YOU UNDER ALL CIRCUMSTANCES WILL BE EQUAL TO THE PURCHASE PRICE YOU PAY FOR ANY SERVICES OR INFORMATION.
Should any part of this Agreement be held invalid or unenforceable, that portion shall be construed consistent with applicable law and the remaining portions shall remain in full force and effect. Our failure to enforce any provision of this Agreement shall not be a waiver of such provision nor of the right to enforce such provisions.
APPLICABLE LAW AND JURISDICTION
The access to and use of this website is subject exclusively to the federal laws of the United States and the laws of the State of New York. Any related cause of action must be claimed within one (1) year or be forever waived and barred.
By using the JKFindings.com website you agree that any disputes or legal matters that may arise between JK Findings and you shall be resolved in the jurisdiction and courts of Monroe County, New York, USA. This agreement pertains to any legal action against JK Findings., its officers, shareholders, directors, employees, or agents, and provides for exclusive jurisdiction and venue in Monroe County, New York, USA.