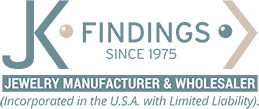 My Account

Some services are not accessible on smartphone.
Payment Information
Payment Terms
Domestic Accounts: Net 30 days for approved accounts, COD or In Advance for all other accounts. Net 30 terms are available to those customers with a good credit rating from The Jewelers Board of Trade. Customers that are not rated but have substantial credit information and trade references will be considered for credit. You can request credit using our customer application.
International Accounts: Full payment is required prior to shipment.
Payment Methods
We accept the following forms of payment:
Company Check
ACH
Wire Transfer
Credit Card: VISA® and MasterCard® accepted. Note that a credit hold will be placed on your credit card account at time of order. Your card will not be charged until day of shipment. Please advise if you are using a debit card as we do not place a credit hold at time of order on debit card accounts.
PayPal®: A 3% convenience fee will be applied.
Alipay: Available for China customers only.
Please note that we do NOT accept cash payments.