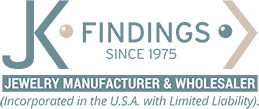 My Account

Some services are not accessible on smartphone.
Videos
The educational videos in this section provide product demonstrations and instructions, as well as information on our jewelry findings, precision mechanisms and manufacturing capabilities.
Layered Necklace Clasps
Create layered necklaces with our two and three row layered necklace clasps. The Layered Necklace Clasp has a secure fit and is easy to open and close. Layered Necklace Clasps are available in 1/20 14K Gold Filled and .925 Silver. We also have a variety of tube clasps in 1/20 14K Gold Filled and .925 Silver.
Using JK Findings' Magnetic Clasps with Spring Ring
Attach necklaces fast and secure with JK Findings' magnetic clasps with spring ring. Our magnetic clasps are small and light but use powerful magnets to easily secure your jewelry. We offer magnetic clasps in 14K gold, 1/20 14K gold filled, and .925 silver.
The New 7" Interchangeable Cuff Bracelet AT
The 7" Interchangeable Cuff Bracelet AT is made of .925 Silver with an anti-tarnish finish. This video features the birthstone connector collection with all birthstone colors available as well as the Infinity Connector SPAT.
How to Use a Click & Lock Jump Ring
All of our round open jump rings feature "Click & Lock" mechanisms for easy and secure closure, with no soldering required.
Companion Rings
.925 silver stardust and shiny rings available in sizes 4-8 to fit each finger. Designed to be worn as "companion rings" on each side of your wedding ring, or mixed and matched on all fingers.
Caprice Flex Bangles
Choose from our line of finished Caprice Flex Bangles or add your own beads or pearls to a .925 Silver Flex Bangle with pearl cups.
Pearl Caprice Bracelets
Pearl Caprice Interchangeable Bracelets feature threaded pearl stations to allow pearls and beads with hole sizes as small as 1.8mm to be interchanged. Choose from four different bracelet styles and a selection of pearl, natural stone or .925 silver beads. Patent No. 9,339,091
The single pearl station bracelets feature removable endcaps to allow Caprice Beads and Charms to be easily added and removed.
Drops and Connectors
Precision machined bezels are used for setting stones into drops, connectors and earring components.
Bayonet Ball End Bangles
This video explains how to open and close a bayonet ball cuff bangle. Bayonet ball cuff bangles are available in three sizes: 7 Inch and 7.5 Inch.
Bead Chain
Unlike traditional ball chain, which consists of small beads connected by short lengths of rod or wire, our New Bead (ball) Chain uses one continuous chain to connect the beads, creating more flexibility and smaller gaps between each bead. Made with .925 silver in 16" or 18" lengths.
How to Use The Adjustable Chain Finding Set
Assembly instructions for 5004217SET, 5004219SET, 5004220SET. The adjustable chain finding set is also used with items 501214122LA, 501242922LA, 501372122LA, 501474122LA, and 501520622LA.
How to use 5001517SET (Threaded Magnetic Clasp)
This video provides step-by-step instructions for gluing the Threaded Magnetic Clasp to rubber meterage and instructions on how to open and close the clasp.
JK Findings Capabilities
How to Use a Caprice Beading Bracelet
The Caprice system offers several bracelet, necklace and earring styles in .925 silver, leather and rubber along with a variety of beads, charms and other components.
Capri Bead and Bracelet System
The Capri collection provides a lower priced alternative to the Caprice System. Compatible with all Caprice beads, Capri bracelets and necklaces eliminate the threaded endcaps used in the Caprice system, and instead use inexpensive stopper beads to hold beads in place.