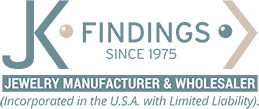 My Account

Some services are not accessible on smartphone.
Human Rights Policy
Purpose:
To establish and communicate JK Findings' commitment to conducting our operations with honesty, integrity, helpfulness and openness, and with a respect for human rights and the integrity of our employees.
Policy:
Respect for human rights is a fundamental value at JK Findings and we demonstrate a high level of commitment towards incorporating this value in all aspects of our business, including on-site, remote and international. JK Findings insists on sustainability throughout our supply chain. We recognize the challenges associated with providing precious materials in a responsible manner. We work closely with our suppliers to ensure our jewelry is produced in the most ethical way possible.
As an employer, JK Findings respects human rights standards for our entire workforce. We are committed to maintaining a workplace free from harassment, violence, and intimidation, whether from internal or external threats. All security and safeguards are provided and maintained with respect for employee's privacy and dignity.
JK Findings values and encourages diversity in the workplace and we are committed to equal opportunity. We are committed to maintaining a workplace this is free from discrimination and harassment on the basis of age, race, sex, color, national origin, ethnicity, religion, social origin, disability, sexual orientation, gender identification, political opinion, or any other status protected by law. Recruitment, hiring, placement, development, training, compensation and advancement are all based on qualifications, performance, skills and experience.
Inappropriate or disrespectful behavior, retaliation or harassment is not tolerated at JK Findings. Any known instances are taken seriously, fully investigated in a timely manner, and the appropriate disciplinary action is taken if necessary, up to and including termination of employment and notification of the relevant authorities. JK Findings respects the rights of employees to form, join or not join a labor union without fear of harassment, intimidation or reprisal.
The health and safety of our employees continues to be one of our highest priorities at JK Findings. We are committed to providing a safe and healthy workplace, and at a minimum comply with all relevant local, national and international health and safety laws and regulations. Management works with representatives of our workforce to ensure a safe and healthy workplace, and is committed to addressing and remediating any identified risk of accident, injury or impact on health.
All employees at JK Findings are required to participate in annual training to ensure they stay abreast of behavior that will not be tolerated in the workplace and how to report an incident.