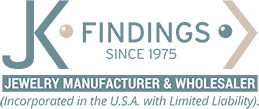 My Account

Some services are not accessible on smartphone.
>

Frequently Asked Questions
Frequently Asked Questions
This page provides useful information on topics related to the jewelry and findings industry, including common questions, jewelry and findings terms, and helpful industry measurements. If you have other questions, please contact us.
For questions regarding account set-up and ordering, visit our Help page. For information on terms, pricing, minimum orders, and returns, please visit our Ordering Policy page.
Your Jewelry and Findings Questions Answered:
What is gold filled?
To learn more about gold filled, visit our Metals Guide and view our What is Gold Filled flyer.
Can you solder gold filled?
Yes. Gold filled metals can be soldered with a torch and gold solder to other metals. Be mindful that there is a risk of the gold layer melting enough to show the base metal underneath, so use caution when applying torch heat.
What causes tarnishing and how can I prevent it?
Tarnishing is caused by oxidation. To prevent this, keep findings and jewelry polished and clean. JK Findings sells all products sealed in plastic poly bags with anti-tarnish strips to prolong their shelf life.
Why does silver tarnish if there is anti-tarnish on it?
Over time, the anti-tarnish barrier will wear away and oxidation will occur. The tarnish is most likely due to contact with sulphur compounds or other chemicals that attack copper. Amount of wear and skin chemistry will determine how quickly this will occur.
Does silver with rhodium plating tarnish?
Rhodium plated silver is much less likely to tarnish than raw sterling silver.
How do I clean gold filled?
Most commonly used at home is a mild soap and water to clean jewelry. Mass produced and readily available jewelry cleaner may be used, but the directions must be read before use as many have restrictions.
How do I determine what size pearl cup I should use?
You should use a pearl cup that is roughly two-thirds the size of the pearl you are using.
How do I determine what size bead cap I should use?
You should use a bead cap that is roughly two-thirds the size of the bead you are using.
Are your items nickel compliant with European Standard?
Yes, all of our .925 silver items are nickel free.
Why does silver tarnish when stored with leather and how can I prevent it?
The tannins in leather release gases that cause silver to tarnish. When leather and silver are stored in the same poly bag or container, the gases get trapped inside and tarnishing will occur. To help prevent this, we add anti-tarnish strips and a desiccant (silica gel is the most commonly used) to all poly bags containing leather jewelry with silver findings. The anti-tarnish strips absorb and trap sulfides and pollutants in the air while the desiccant removes moisture from the air. If using your own packaging, it is a good idea to add these two things.
For your 1/20 14K gold filled items that show a country of origin of China, does these mean that you are producing the gold filled material in China?
We source all of our 1/20 14K Gold Filled materials from US based suppliers and transfer this material to our manufacturing facility in China for the final items to be produced.
Are your findings EU Reach Compliant?
Yes, our findings are EU Reach Compliant.
How do I obtain a user name and password for the website?
If you are a current customer and would like to obtain a login and password for online ordering, please contact your Customer Service Representative. If you do not yet have an account with us and would like to begin ordering, please submit a customer application. This application is a fill-in form that can be completed online. Simply key information directly onto the form and click 'submit'.
I would like to set up an account with open payment terms. How do I do this?
To apply for an account with open payment terms, complete and submit our online customer application. This form may also be accessed by clicking 'Create Account' at the top of the website.
What kind of payments do you accept?
Company Check
ACH
Wire Transfer
Credit Card: VISA® and MasterCard® accepted. Note that a credit hold will be placed on your credit card account at time of order. Your card will not be charged until day of shipment. Please advise if you are using a debit card as we do not place a credit hold at time of order on debit card accounts.
PayPal®: A 3% convenience fee will be applied.
Alipay: Available for China customers only.
Please note that we do NOT accept cash payments.
Do you have a minimum order policy?
Yes, we do have a minimum order policy of $250. If you submit an order for less than this amount, we will contact you to either add more items or cancel your order.
Why does my order summary indicate that shipping charges will be calculated at a later date?
Accurate shipping charges cannot be calculated until your order has been pulled and an accurate weight is determined for your shipment. An estimate can certainly be provided at time of order. Just contact our Customer Service Department with your web order number and they would be happy to advise you of the estimated shipping charges.
I would like a printed copy of your catalog. How do I get one?
The link to our Catalogs and Flyers page is located in the footer of our website. You may also access them here. Click this link and then click the cover of the catalog you wish to print. An interactive version will load. To print, click the printer icon in the menu at the bottom of your screen.
What are the metal prices displayed on your site?
The metal prices displayed on our site are the 2nd London fix plus our metal premium for Gold. We use the London fix for silver which occurs once a day, noon GMT. When there is no London market, we use the most recent London market for the gold and silver price. Our metal premiums can be found on the Ordering Policy page located in the top navigation pane of our website. Our metal premiums are as follows:
Gold Fixing - PM London Fix +2.5% surcharge
Silver Fixing - London Fix +5.5% surcharge
Platinum Fixing - PM London Fix +2% surcharge
Gold, Platinum & Silver
The London Fix is the procedure by which the price of gold and Platinum is set on the London market by the five members of the London Gold Pool. It is designed to fix a price for settling contracts between members of the London bullion market, and informally the London Fix provides a recognized rate that is used as a benchmark for pricing the majority of gold products throughout the world's markets. The Gold Fixing is conducted twice a day via conference call. The AM Fix is set at 10:30AM London time (5:30AM EST). The PM Fix is set at 3:00PM London time (10:00AM EST). JK Findings uses the PM Fix to set the metal market price daily for Gold at 10:30AM EST. The London Silver Fix is done once per day at Noon GMT.
I see items on your website that I am interested in but the prices are not listed. How do I get information on your pricing?
Pricing is available on our website but you must log in to see it. Existing customers can contact us for a user name and password. New customers should complete and submit our online customer application. This form may also be accessed by clicking "APPLY FOR ACCOUNT" at the top of the website.
Do your product pictures depict actual size?
No, the product pictures are not actual size. For information on size and weight specifications, click on an item and review the description and specifications tabs or contact our Customer Service Department.
How soon will I receive my order?
If the items are in stock, we will ship it to you the same day. If not in stock, turnaround time will vary. Your Customer Service Representative can provide you with an estimate.
How much will domestic shipping cost?
Shipping charges depend on order weight and box size. Your Customer Service Representative can provide you with an estimate at the time of your order.
Do you have a physical selling point or showroom?
No, you may browse our product online or request to meet with us during one of our sales trips or at one of the trade shows we exhibit at or attend.
Do new customers need to provide a VAT number?
No, we are not located in a country that collects and pays in VAT.
Abbreviation

Definition

Abbreviation

Definition

1#

1 Number Hard Wire

JR

Jump Ring

2#

2 Number Hard Wire

LB

Leverback

3#

3 Number Hard Wire

LC

Lobster Claw

4#

4 Number Hard Wire

MOA

Minimum Order Amount

AT

Anti-Tarnish

MOQ

Minimum Order Quantity

C&L

Click and Lock

OD

Outside Diameter

CL

Closed

OX

Oxidized

CZ

Cubic Zirconia

QSTM

Quality Stamp Trade Mark

DC

Diamond Cut

RGP

Rose Gold Plated

DN

Double Notch

RH

Rhodium Plated

DS

Dead Soft

SPAT

Silver Plated Anti-Tarnish

DSCB

Double-Sided Checkerboard Stone

SPS+

Silver Plated with Silver Plus (AT)

ga

Brown & Sharpe Wire Gauge

SR

Spring Ring

GP

Yellow Gold Plated

TC

Trigger Clasp

ID

Inside Diameter

TO

1 Troy Ounce = 31.1035 Grams
Clamoring for clasp clarification? Jostled by jewelry jargon?
Read What's In a Name? A Glossary of Common Types of Findings and Chain which originally appeared in the MJSA Buyer's Resource, Volume One. It is published by MJSA, the U.S. trade association dedicated to professional excellence in jewelry making and design. For more information, go to mjsa.org.